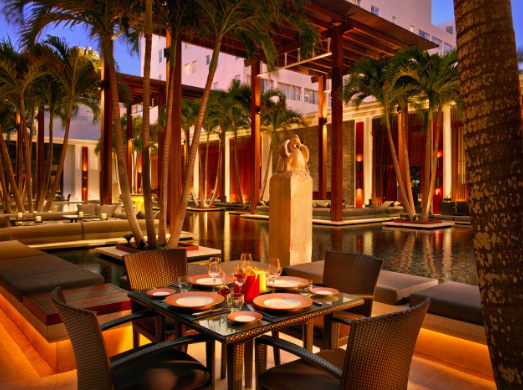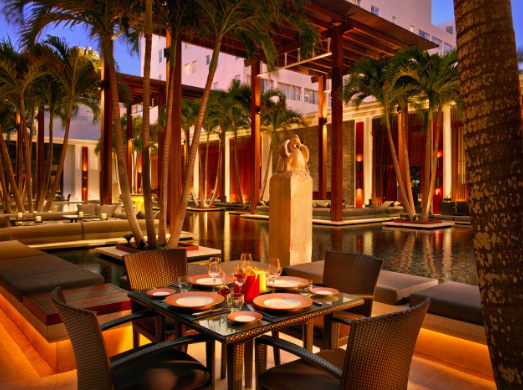 Menu: db Bistro Moderne will carry on its tradition of offering a lavish feast to celebrate the Thanksgiving holiday, with both a la carte and prix-fixe options. Diners can expect traditional Thanksgiving offerings like turkey and pecan pie in addition to Executive Chef Clark Bowen's fresh take on regional cuisine and local flavors including pumpkin agnolotti and local pompano. Diners will also receive a complimentary turkey sandwich to go at the end of the meal, the perfect snack for the next day (or later that night)!
Gianni's
Menu Item: Lobster Pumpkin White Truffle Risotto featuring roasted Florida pumpkin, sous vide Main lobster, carnaroli rice and white truffle honey.
Valid dates: 11/23 to 11/27
Price: $50
Mondrian Caffe
Menu: Thanksgiving Dinner Catered by Chef Dustin Atoigue – Baby endive salad with fuji apple, candied walnuts, Maytag bleu cheese and Walnut Vinaigrette. Roasted Turkey Breast and Roasted Turkey Legs with Giblet Gravy, Cantalet Cheese Mashed Potatoes, Caramelized Brussels sprouts with Proscuitto and Farmers Honey, truffle stuffing, homemade cranberry sauce and pumpkin cheesecake with spiced anglaise sauce. Packaged to Feed 4-6 people, cut off time to order: Friday, November 18th by end of business day.
Price: $200
Bulla Gastrobar
Menu: Thanksgiving is right around the corner and Bulla Gastrobar invites guests to enjoy a special Thanksgiving-inspired Spanish menu. Bulla Gastrobar is mixing bold holiday flavors into traditional Spanish dishes like the Calabaza con Leonora dish for Accion de Gracias. The dish combines kabocha squash, leonora cheese, extra virgin olive oil and a pinch of salt.
 Driftwood Room at Nautilus, a SIXTY Hotel
Menu: Driftwood Room at Nautilus, a SIXTY Hotel, in South Beach invites guests to give thanks this year with a special prix-fixe menu. The restaurant is offering a three-course meal for a set price of $65. Menu highlights include Curried Butternut Squash Soup, Roasted Turkey, Red Lentils Risotto, Seared Atlantic Salmon and Cranberry & Blueberry Tart for dessert!
 Jaya at The Setai
Menu: Jaya at The Setai invites guests to a Thanksgiving Brunch from 11:30-3:30pm priced at $125 per person and $63 per child. Some menu highlights include traditional Turkey, Ham and Roasted Honey Glaze Leg of Lamb as well as an extensive array of seafood displayed on an ice sculpture. Jaya will also offer their famous Chinese Dim Sum menu, Indonesian Beef Rendang and Traditional Pad Thai.
Jaya is also offering a 4 course dinner priced at $125 per person and $63 per child from 7-10:30pm.
Pisco y Nazca
Menu: Switch it up this Thanksgiving with Pisco y Nazca's Thanksgiving menu of the week inspired by vibrant Peruvian flavors. Guests will have the chance to enjoy dishes like guava stuffed empanadas and turkey served with Peruvian gravy.
 Epicure Gourmet Market and Cafe
Menu: From their table to yours, Epicure Gourmet Market and Café encourages guests to experience their rich, home-style Epicure Family Feast this Thanksgiving season. The classic package features a savory roasted turkey, country stuffing, candied sweet potatoes, fresh dinner rolls, sautéed vegetables and a choice between two freshly-baked, signature Epicure desserts – all prepared to satisfy the seasonal cravings for a table of 10. 

Catering to all tastes, families who prefer turkey day without the turkey can purchase Chef Michael Love's Not-So-Traditional Thanksgiving Dinner, which features a spiced pumpkin bisque, fresh basil and crumb-crusted roasted salmon, arugula hearts of palm salad, classic mashed potatoes, mixed artisan dinner rolls and topped off with sweet pumpkin cheesecake – ideal for a family of four.
Making your holiday simple and delicious, the gourmet market invites families to spend less time in the kitchen and more quality time in the company of loved ones.

To preorder, please call (305) 672-1861 for Miami Beach or (305) 974-4581 for Sunny Isles.
TALDE at The Confidante Miami Beach
Menu: For those looking for a tw