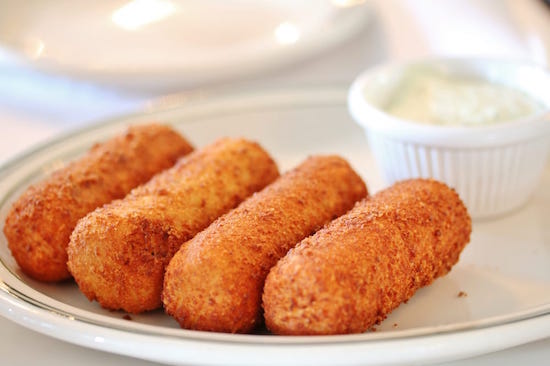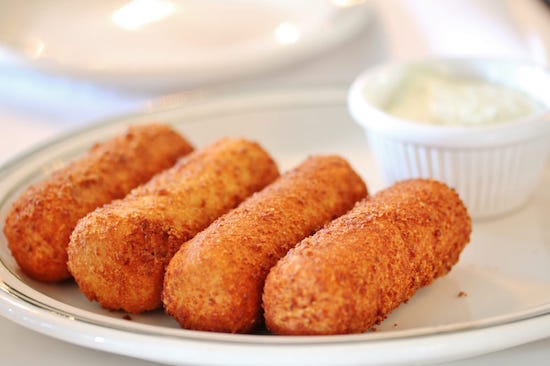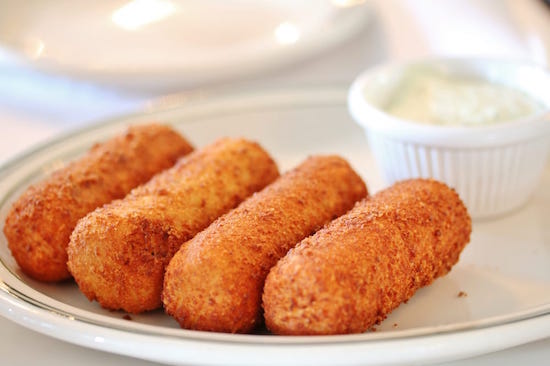 Located on the infamous Calle Ocho of Little Havana, this spot has also been known as "The World's Most Famous Cuban Restaurant" since it opened its doors in 1971. Whether you want a morning starter meal, a midday snack or a nightcap , this is Miami's go-to Latin food spot at any point of the day. They're also open practically 'round the clock on Friday and Saturday (8am-2:30am), which makes for an awesome pre-or-post party meal. For breakfast, try La Ventanita—the small breakfast window connected to the main restaurant. Kick off your morning with a cortadito (Cuban coffee), which will literally kick you awake with how strong it is. The perfect complement to strong coffee is my personal favorite: guava and cheese pastries. Versailles almost always has a wait to be seated for dinner, but they definitely know how to keep a crowd happy once seated with authentic, hearty food served efficiently and at very reasonable prices. Although Versailles is a fantastic location for food, it is more than that: it acts as a meeting place for Miami's mass Latin community. Versailles serves as a gathering point after huge Cuban events, most recently seen after the death of former Cuban leader Fidel Castro. Because of this, the media knows to go to Versailles for a neighborhood perspective on social and political issues.
2. La Camaronera Seafood Joint & Fish Market
What used to be a simple seafood market is now a well-known Latin food staple. La Camaronera launched in 1973 in Little Havana (a couple of years after Versailles). For starters, this joint was featured on Diners, Drive Ins, and Dives, which means foodies everywhere will approve. It's also a family establishment: The Garcia family has been serving seafood the same way their grandparents did back in Cuba and plan on continuing that tradition for years to come. The most popular items on the menu are fried, so this place is more of a "cheat day" treat. The pan con minuta is the top selling dish, with about 400 sold daily (quick Spanish lesson: pan=bread, con=with, "minuta" suggests the butterfly cut of the fish). Between the Cuban buns you'll find marinated red snapper perfectly fried, with tail*, dressed in ketchup and chopped onions (*this sandwich is so good, some people can't resist eating the tail). Another favorite is the camarones fritos (fried shrimp) and langosta frita(freshly caught lobster dipped in homemade ketchup sauce and fried until crispy). If you're a fan of ­­­fried seafood, this is Miami's place to go; just make sure you have cash, because like many small-but-mighty food havens, they don't accept cards.
There are three Delicias de España locations, but the original is on SW 57th Avenue (next to what used to be Allen's Drugs). It is more of a hole in the wall than the previous two restaurants, but it's a huge hit for breakfast. When seated, read the placemat to discover quick facts about food in Spain. Delicias de España serves traditional Spanish cuisine and freshly made baked goods. The seafood is received twice a week directly from Spain, and the menu changes frequently to keep its customers on their toes. The feast begins with warm bread and butter to entertain your appetite while you decide on a main meal. For breakfast, the chorizo scrambled eggs and potatoes are a favorite, as well as the Huevos a la Flamenca. The latter may even be considered a breakfast essential for any first timer: it translates to "eggs in Spanish sauce" on the menu, and consists of eggs cooked in tomato sauce with serrano ham, chorizo, peas, garlic, and onion. Café con leche is included with your breakfast choice (a Latin meal staple) and you can always top your solid meal off with dessert (between four and five dollars a piece).
4. Enriqueta's Sandwich Shop
Although in the name it claims to be a sandwich shop, Enriqueta's Sandwich Shop is much more than just that. If you want a quick meal for under $10 served by a friendly staff, this is the place to go. The well-known Latin venue is home to $5 breakfast goodness, its popular option being the special of two eggs, bacon or sausage, Cuban toast, café con leche, and freshly squeezed orange. Their sandwiches (priced at around $6) include the pan con bistec (steak sandwich) and the lime-marinated chicken sandwich — both topped with cheese, tomato, grilled onions, and shoestring potato sticks. The pan con bistec is claimed to be one of the best in Miami. If you are a croquette fan, try the special Cuban sandwichfor just a dollar more: it includes regular ham, pork, Swiss cheese, pickles, mustard and stuffed with croquettes. If you can't get a table, grab a seat at the counter or quickly stop at the to go window; the staff is just as accommodating and the food comes out just as quickly. And don't forget to grab one of their milkshakes or smoothies in Cuban flavors like mamey, papaya, or trigo (wheat) to end your meal on a sweet note. Note: they're great to have at any time of day; deliciousness knows no time limit.